Iwade Observer
Iwade Observer
October Observer now online and help needed!
The October 2021 Iwade Observer is now online, comprehensive and welcome as always, click on the October image below to read yours. The Iwade Observer team desperately need help though. After years of commitment, they are ready for new volunteers to join the editorial team. Whether you want to seek out interesting content, edit articles or master desktop publishing and create the pages, they would value your help. Email the team at the.iwade.observer@gmail.com to register your interest.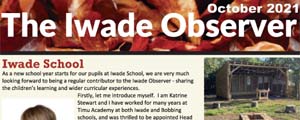 October 2021
---
01795 436027
07941 656 669
the.iwade.observer@gmail.com
The Iwade Observer goes back to 2006 with back copies available in the IwadeVillage.co.uk News archive. Currently capably run by Rynn Kemp and Dale Wells, the Iwade Observer is an Iwade luxury that is delivered to every resident by a group of volunteers and published online on IwadeVillage.co.uk. Get in touch with Rynn if you would like to contribute or join the team of volunteers who produce or deliver the Observer.
---
Iwade Observer Archive
2021
2020
2019
2018
2017
2016
2015
2014
2013
2012
2011
2010
2009
2007
2006